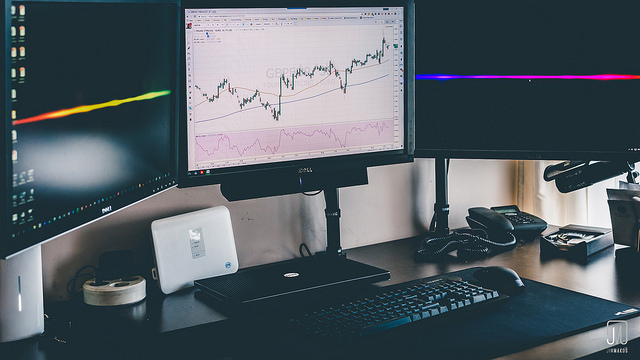 Ripple XRP cryptocurrency has been in the news for most of the current year. It's been a mix of fact and rumors but it just keeps the industry's attention. That is not a coincidence. The whole point of XRP is to provide a cryptocurrency for institutional transfers that are safe (as opposed to retail transactions for end users), and the fact is, it's worked so far. Banks and other financial institutions are buying it and maybe you should as well. Let me tell you why.
The banking industry is going for it
According to Ripple's plans for XRP, they will be partnering with half of the world's bankers so they adopt the XRP crypto coin. This is not random. As stated before, XRP has always been meant to be a transfer tool between institutions instead of a coin for end users. That's what Ripple meant, and that is exactly what is happening.
Ripple is just as safe as bitcoin or any other alt-currency but it's much faster, and transactions are cheaper. The sheer speed and convenience it offers can change the game itself, keep an eye open for it.
Ripple's processor platform is popular!
It's handled more than a billion bucks over the last week! We are not exaggerating, everybody want's a piece of Ripple's processing platform. If you want credibility and stability just think a billion dollars! This achievement has come through Ripple's partnership with Tencent Holding Limited (that happened earlier this month) but it's real.
These transactions are both domestic and international. But the volume is huge and it just confirms how reliable XRP has become. And you should probably become part of it.
A Bank a week strategy of Ripple
More than a hundred banks are currently testing Ripple's rapid software. It will make them liquid in no time at all. Ripple wants to have about two hundred banks in total, which means they get a new bank every week giving XRP a go. And they're getting them. So, if Ripple will have its way, a local bank near you will be in the coin's ecosystem before this year ends.
The xRapid system is very versatile and easy to implement so it fits into any local bank's system quickly. Some critics say that this kind of integration into the system will make the coin lose value, but the market has disagreed so far. In the end, more transactions and increased demand can only mean this crypto coin will be more valuable. You decide on your own.
Unparalleled transaction speed
You probably know already that doing transactions through the mostly used cryptocurrencies takes time. But did you know that XRP's transaction speed is faster than even VISA?
Speed combined with reliability is making XRP a trusted currency the world needs and more banks are going for it every week.
Remittances: XRP, not Paypal
Remittances are a huge piece of the market and the preferred way to do them over the last few years has been Paypal. That is changing. As banks realize how quick, cheap, and reliable XRP is – they're just going for it for their international transactions.
In fact, Ripple has been so successful at this that they are now being sued (by PayPal, yes, when you are sued by a competitor that means that are afraid of your ideas) and investors are just paying attention to find out how it plays out. You should do as well, of course. The fact remains: XRP is useful, efficient, and it's done nothing wrong. It's just outperforming traditional financial transactions and the establishment has nothing to answer with but lawsuits.
If you are a Paypal user, you already know what financial tech and blockchain tech can do for you. Well, XRP is just like that. It's just bigger and more convenient and it won't be long before you feel the benefits.
Ripple wants you (the users) to hold XRP
Financial and money markets are notoriously unstable. That's where every economic crisis has started. Ripple wants you to avoid that kind of pitfall by owning some XRP currency. It's already becoming a world standard so you can't fail, and as it grows, its value will surge.
Banks are being cautious and observing what happens. But they are also demanding more XRP so scarcity will bring increased value along, and you could benefit from it. By Q2 direct conversion from XRP to fiat will be available, and then you will have plenty of reasons to celebrate. Join in now.
Digital currency marketplace and Ripple's XRP
Blockchain technology is on your side. It makes transactions so much cheaper, which users are just starting to realize now. It's so dramatic that banks and smartphone financials could just change bigtime soon.
Just think about this: Starbucks, MoneyGram, Western Union are already in Ripple's pocket. That means they could be in your pocket. Do you want to be in or to be left out?
Disclaimer: This article should not be taken as, and is not intended to provide, investment advice. Global Coin Report and/or its affiliates, employees, writers, and subcontractors are cryptocurrency investors and from time to time may or may not have holdings in some of the coins or tokens they cover. Please conduct your own thorough research before investing in any cryptocurrency and read our full disclaimer.