We started hearing rumors about the iPhones we can expect to see in 2018 before the iPhone X, iPhone 8, and iPhone 8 Plus had even launched, and based on those rumors, 2018 is shaping up to be an exciting year for iPhone advancements.
In 2018, Apple is planning to continue on with its three iPhone lineup, introducing three new iPhones. The first is said to be a second-generation version of the iPhone X, with the same 5.8-inch OLED display, while the second can be thought of as an "iPhone X Plus" with a larger 6.5-inch OLED display.
Along with these two OLED iPhones, which will undoubtedly be just as expensive as the current iPhone X, Apple is planning to introduce a new, more affordable 6.1-inch iPhone with an LCD display. This device could possibly use a Full Active LCD display, which would offer improved technology over the iPhone 8 and 8 Plus display.
All three of the new iPhones will feature an edge-to-edge screen with the same nearly non-existent bezels of the iPhone X, and all will be equipped with a TrueDepth camera system that supports Face ID. That means 2018 will mark the official end of the Home button and the Touch ID fingerprint sensor in Apple's flagship iPhone lineup.
While the 5.8-inch and 6.5-inch OLED iPhones in 2018 will be outfitted with all the bells and whistles of the iPhone X, Apple is going to cut some features from the rumored 6.1-inch model to keep costs low. That device will have an aluminum frame instead of a stainless steel frame, it may not come equipped with wireless charging, it will have a single lens-rear camera, and the display may not support 3D Touch.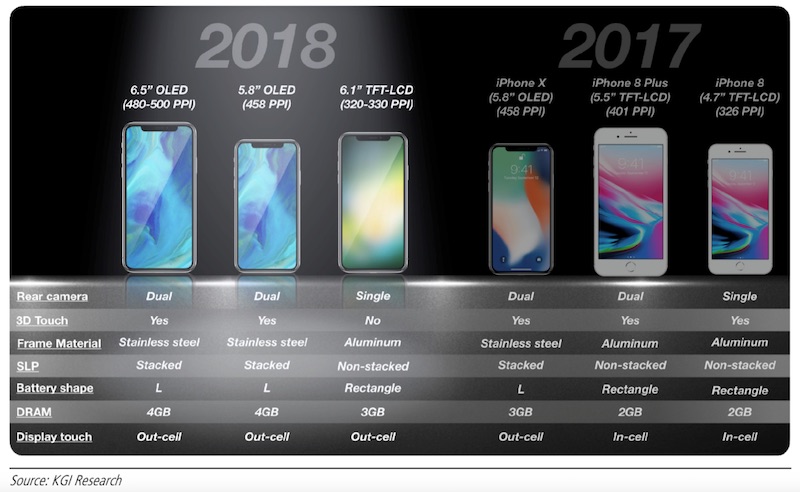 Chart comparing prospective 2018 iPhone features to 2017 iPhones, via KGI Securities analyst Ming-Chi Kuo. Chart has small error: iPhone 8 Plus has 3GB RAM, not 2GB.
By eliminating these features, Apple is expected to be able to sell the device for $700 to $800, putting it on par with the more affordable iPhone 8 and iPhone 8 Plus. We don't know what the OLED iPhones will be priced at, but $999 for the next-generation 5.8-inch model is a solid guess, as is $1,099 for the 6.5-inch model.
Comparatively, the 5.8 and 6.5-inch OLED iPhones are expected to continue to offer dual-lens rear cameras and they may include upgraded battery technology in the form of a one-cell L-shaped battery, which would offer improved battery life.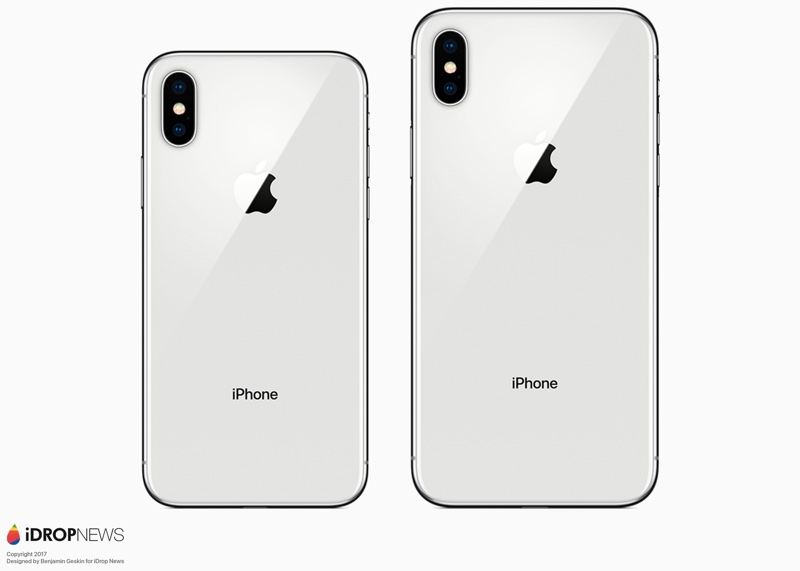 iPhone X Plus render via iDrop News
In addition to Face ID and a TrueDepth camera system, all three new iPhones are likely to include an A12 processor and improved LTE chips from Qualcomm and Intel that will support faster LTE speeds.
With the launch of a second-generation 5.8-inch iPhone X and a larger 6.5-inch "iPhone X Plus," rumors suggest Apple will flat out discontinue the current iPhone X rather than lowering its price tag and selling it as a lower-cost older-generation device.
iPhone X manufacturing would cease with the launch of the new devices, and it would effectively be retired. This is not unheard of, as Apple did the same thing with the iPhone 5 when the iPhone 5s and 5c launched in 2013.
Source link