[ad_1]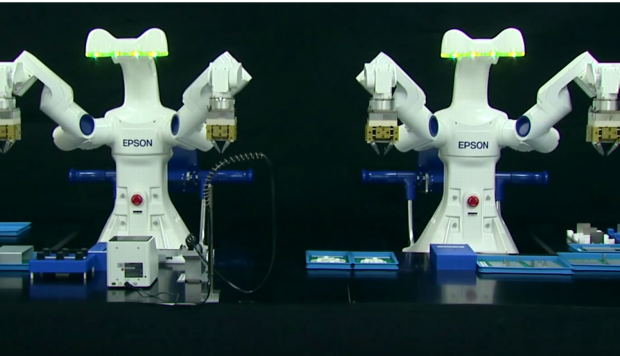 By Suchit Leesa-Nguansuk
Seiko Epson Corporation, a Japan-based technology firm, plans to diversify into robotics, wearables, and visual and inkjet printing businesses, with a target of ¥1.7 trillion (US$1.5 billion) in sales revenue in 2025.
The goal for the company's 10-year vision is for sales revenue to grow by 50 per cent from 2016, with 3D printing and dual-arm robotics embedded with artificial intelligence (AI) on the roadmap.
Seiko Epson will use acquisitions and partnerships to fulfil strategic software goals for AI, printed material and production printing.
"Our vision by 2025 is to create a new age of connected people, things and information with efficient, compact and precision technologies for sustainable growth," said president Minoru Usui at Epson Singapore's 35th anniversary.
The company also targets net profit of ¥200 billion (US$176 million) and 12 per cent return on sales.
While Epson previously developed products to compete with its rivals, Mr Usui said the company has shifted its focus to consumer needs and unique features to improve quality of life, increase productivity and become environmentally friendly.
"We will position ourselves to provide innovative products that can bridge the gap between the cyberworld and the physical world," said Mr Usui.
Seiko Epson will leverage its core strength in Micro Piezo print-head technology in inkjet printers to help small and medium-size enterprises (SMEs) as well as digital printing for textiles, garments and digital press, among others.
"One of our goals for digital printing technology is the ability to print any materials. We are working on 3D printing that can work on a variety of printing material with high accuracy and productivity," he said.
Meanwhile, Epson will go beyond industrial robotics to service robotics through autonomous working robots that can see, sense and think.
"Dual-arm robotics will be coming soon and robotics is the fastest growing area for Epson," said Mr Usui.
For Epson's visual segment, the company will focus on ultra-high brightness projectors that can tap into signage, lighting projection mapping.
The company plans to introduce new smart glasses with augmented reality display for commercial and industrial use in Southeast Asia in the fourth quarter.
Epson recently acquired Orient Watch as part of its high valued-added watch segment and the company is focused on sensor-based watches for healthcare, sport and fashion.
Munenori Ando, chief executive and general manager for sales and marketing, said the company will expand into enterprise markets, adding to existing consumer, SME and corporate segments.
It aims to provide inkjet technology to replace laser printing and copiers in the enterprise market.
Mr Ando said its latest product, the Epson WorkForce Enterprise series, can print 100 pages per minute, faster than existing laser printers that print at 80 pages per minute, at a lower cost.
Moreover, Epson plans a business-to-business campaign under the theme "It's in the details" to convey the uniqueness of its products for enterprise and business users and build brand awareness.
Read the original article at Bangkok Post
Source link