[ad_1]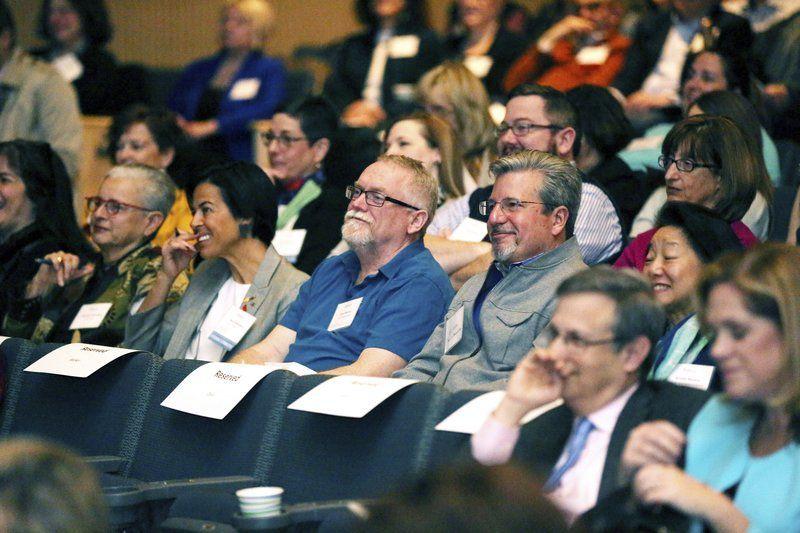 BEVERLY — The Essex County Community Foundation has an ambitious goal of improving the region's quality of life through the power of arts and culture.
The organization took a first step on that path on Friday by gathering more than 400 people at The Cabot for what it billed as the first annual Essex County Arts & Culture Summit.
The daylong event was attended by artists, art organizations, philanthropists and business and community leaders, many from Cape Ann, and all of whom will need to work together to produce more public art and spark the region's creative economy, speakers said.
"Arts and culture have the power to change the way people look and think about a destination like Essex County," said Jonathan Payson, chairman of the Essex County Community Foundation's board of trustees.
The foundation, which oversees more than $70 million in charitable assets for people who donate to the foundation, is putting money behind its big plans. It will provide more than $750,000 in funding through its Creative County Initiative, thanks to a $500,000 grant from the Boston-based Barr Foundation and $250,000 raised by ECCF.
The money will be used to award grants of up to $30,000 over the next two years for public art projects and "creative placemaking," as well as for one-day workshops for cities and towns in Essex County to work on cultural planning.
The initiative also includes a new regional, online website and calendar, EssexCountyCreates.org, that will allow artists and organizations to promote their events.
Speakers gave examples of how public art is helping to shape cities and towns all over the world, from lighting up bridges over the Thames River in London to a "pop-up parklet" in Peabody.
Essex County Community Foundation is already partnering on one such project, the creative lighting of the Ayer Mill Clock Tower in Lawrence, said Karen Ristuben, program director for the Creative County Initiative
"Over the next two years we will be thinking and investing differently than we have," said Ristuben, who is also president of Gloucester's Rocky Neck Art Colony and Rocky Neck Cultural District.
Mayors Kim Driscoll of Salem and Mike Cahill of Beverly both spoke about their efforts to include public art in their city's planning. Driscoll noted that Salem bought a commercial lot on Derby Street and received a $1 million state grant to help turn it into a waterfront park.
"It could've been a bank drive-thru (if the city didn't buy it)," Driscoll said. "It's a big deal to get a community to realize, that's green space. Let's think about this differently. Let's think about it more like Bryant Park and the fact that you're going to leverage investments around it."
Bryant Park, which features gardens, games, art activities and food kiosks next to the New York Public Library, is known as Manhattan's Town Square.
Cahill pointed to the revitalization of The Cabot, the 100-year-old vaudeville theater that hosted the summit, as an example of Beverly's commitment to the arts. In the summer, the city has live outdoor music four days a week, and more people are living in the downtown as development continues near the train station, he said.
"We're becoming hipper," he said.
Applications for the public art and creative placemaking grants are due by June 22. The grant winners will be notified by July 20.
Paul Leighton can be reached at 978-338-2675 or pleighton@gloucestertimes.com.
Source link