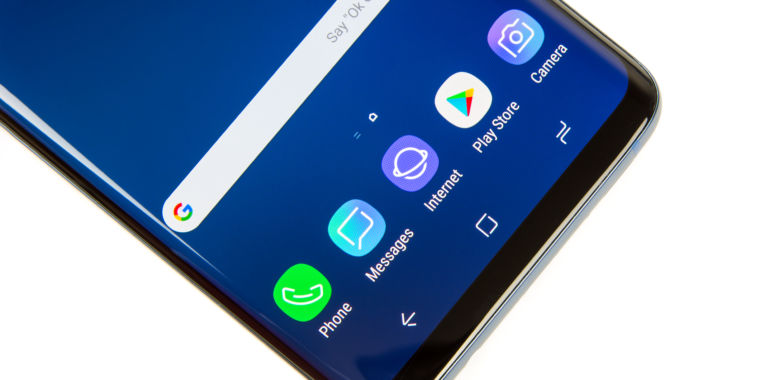 Ron Amadeo


Ron Amadeo


Ron Amadeo


Ron Amadeo


Ron Amadeo


Ron Amadeo


Ron Amadeo


Ron Amadeo


Ron Amadeo


Ron Amadeo


Ron Amadeo


Ron Amadeo
Believe it or not, the high-end Android smartphone market isn't super competitive. LG's mobile unit is regularly the company's worst-performing division, so much so that the company is backing away from a yearly release cycle and delaying its flagship smartphone. HTC's January 2018 was the company's worst month in more than a decade—until even worse numbers were reported in February. Google makes the all-around best Android phone, but it is either uninterested in creating or unable to create a competitive distribution and marketing chain, leaving many people unable to buy the phone.
We hear talk about new brands from China, but Huawei was essentially banned by the US government from meaningfully competing here, Xiaomi keeps pushing back a US launch, and LeEco's US arrival was a crash landing with no survivors.
On the other side of the mobile aisle, Apple makes a compelling smartphone, with worldwide distribution and marketing to back it up, but users are largely unwilling to jump between ecosystems; partisanship has taken over the smartphone market.
So Android users looking for a high-end device are left with Samsung, which has good-enough smartphones and a marketing/distribution operation that can put them in every store, on every TV commercial, and in every ad box. The company's new flagship, the Galaxy S9, has arrived in a market that hasn't given Samsung much reason to push itself, and the S9 is a more uncontested victory lap than envelope-pushing smartphone release.
Samsung should be commended for fixing the Galaxy S8's biggest flaw, the location of the fingerprint reader; otherwise, this is a spec bump release. It's basically a Galaxy S8 with a new SoC, more RAM, and a new camera. Still, we have plenty of interesting bits to go over—this is one of the first smartphones with a variable aperture camera and the first featuring a Qualcomm Snapdragon 845, the SoC that will dominate the high-end Android market in 2018.
Design and build quality
The Galaxy S8 was a major design revolution for Samsung. The company dumped the hardware navigation buttons and front fingerprint reader of the Galaxy S7 in favor of a slim bezel design with on-screen navigation buttons and a rear fingerprint reader. For the Galaxy S9, Samsung is keeping this basic design. (We're reviewing the larger S9+, but most of this applies to the smaller S9, too. The only differences on the S9 are the screen size and the S9's lack of a secondary telephoto lens.)
SPECS AT A GLANCE
Galaxy S9
Galaxy S9+
SCREEN
2960×1440 5.8″ (570ppi) AMOLED
2960×1440 6.2″ (529ppi) AMOLED
OS
Android 8.0 with Samsung Experience 9.0
CPU
US: Eight-core Qualcomm Snapdragon 845 (Four 2.7GHz Kyro 385 Gold cores and four 1.8GHz Kyro 385 Silver cores)

Intl: Eight-core Samsung Exynos 9810 Octa (Four 2.7 GHz Mongoose M3 cores and four 1.8 GHz Cortex-A55 cores)

RAM
6GB
GPU
US: Adreno 630
Intl: Mali-G72 MP18
STORAGE
64GB, Micro SD slot
NETWORKING
802.11b/g/n/ac, Bluetooth 5.0, GPS, NFC
PORTS
USB 3.1 Type-C, 3.5mm headphone jack
CAMERA
12MP rear camera, 8MP front camera
Dual 12MP rear cameras, 8MP front camera
SIZE
147.7 x 68.7 x 8.5 mm (5.81 x 2.70 x 0.33 in)
158.1 x 73.8 x 8.5 mm (6.22 x 2.91 x 0.33 in)
WEIGHT
163 g (5.75 oz)
189 g (6.67 oz)
BATTERY
3000mAh
3500mAh
STARTING PRICE
$720
$840
OTHER PERKS
quick charging, wireless charging, fingerprint sensor, notification LED, Samsung Pay, iris scanner, Bixby button, IP68 water and dust resistance
The phone remains mostly glass. The front Gorilla Glass 5 panel stretches over the extra-tall 6.2-inch display and curves around the left and right edges to meet the aluminum sides. This design is mirrored on the back, which also features glass that curves around the long edges of the phone. The glass is a fingerprint magnet; the back glass especially feels greasy after just a light handling. The fragile all-glass body is still a disappointment. While the industry is clearly moving toward glass, companies like Google and OnePlus still invest the extra effort to make aluminum work, and their more durable, fingerprint-free backs still feel far superior to these glass phones. (The one downside with aluminum is that you don't get wireless charging.)
If you haven't handled a modern slim-bezel phone, don't let the spec sheet's "6.2-inch" display intimidate you. The 18.5:9 aspect ratio means the phone screen is taller than the old 16:9 displays, which greatly inflates the diagonal screen measurement. In reality, the phone body is the same size as an old 5.5-inch 16:9 phone—just with a lot more screen.
Samsung is the king of OLED production, so of course the 2960×1440 display on the S9+ looks great. After dealing with the grainy LG OLED displays on the Pixel 2 XL and LG V30, this is refreshing. The display isn't just crystal clear, it's also one of the brightest screens on the market, though the huge brightness range means that, when you're in the dark, it can be one of the dimmest displays on the market, too.
Small tweaks to the Galaxy S8 body have been made. Surprisingly, our S9+ review unit is a bit thicker and heavier than last year, growing from 8.1mm thick to 8.5mm and the weight jumping from 173g to 189g. The weight does jump out at you when you first pick up the S9+; it weighs more than most other phones on the market (other than the iPhone 8 Plus). The S9 unfortunately isn't packing more battery capacity than the Galaxy S8, so there's no single item that obviously accounts for the extra weight and thickness.

Ron Amadeo


Ron Amadeo


Ron Amadeo


Ron Amadeo
New for the S9 is a stereo speaker setup, which has the earpiece perform double duty as a quiet call speaker and a louder media speaker, along with the usual bottom-firing speaker. This really is a significant improvement over the old mono speaker; it makes video and game audio louder, higher quality, and more immersive. The earpiece/bottom speaker combo is likewise a great design decision, since two front-facing speakers (as on the Google Pixel 2 line) take up too much space on the front of the phone.
Samsung's pile of gimmicks remains. The display is still curved for no reason, distorting the sides of apps. There's still the Bixby voice assistant with a physical hardware button on the left side of the phone. Bixby hasn't changed much since our full review in August—it's slow and not particularly useful, and it doesn't work with a lot of apps. The Bixby button can't be remapped through a simple OS setting, and it's easy to press accidentally. A few "Bixby remapper" apps exist on the Play Store, and they seem to work, but with no official support from Samsung, these are usually janky accessibility hacks that are breakable or laggy. Through the OS, you can disable the single-press action, which opens Bixby's Google Now clone, but you can't disable the long-press action, which starts up the Bixby voice.
The back of the phone still sports a heart rate monitor, which isn't very useful. The monitor still requires you to hold perfectly still for 10 to 20 seconds while it reads your heart rate, making it annoying to use during a workout. The ergonomics are terrible, too. The sensor is high up on the back of the phone (giving it the same problems as the S8's fingerprint sensor). It's tough to position your hand so that you can hold the phone, press a finger against the heart rate sensor, and not accidentally press the Bixby or power buttons. There's also no outline or groove that would keep your finger lined up with the sensor or help you find it without looking. Perhaps Samsung thinks removing the sensor would look bad, but I can't imagine anyone regularly using it.
You can also add AR Emoji, the variable aperture camera, and the iris scanner to the gimmick list, but we'll address those later.
Two Samsung-specific features that definitely don't belong in the gimmick category are Samsung Pay and the always-on home button. Samsung Pay is still the best, most compatible tap-and-pay system out there. It has NFC for NFC terminals, which covers the same compatibility as Apple Pay and Google Pay. Samsung Pay also has MST (Magnetic Secure Transmission) for older terminals, which can beam credit card data directly to a strip reader using a magnetic field.
The always-on home button is my still my favorite Samsung-specific feature. Even when the screen is off, you can "hard press" on the screen to wake the phone up. This is more reliable than the janky double-tap-to-wake systems that some Android OEMs implement, and I wish everyone would copy the idea.
More good decisions include the survival of the headphone jack and MicroSD slot for another year. It would have been easy for Samsung to justify removing these features using the "everyone else is doing it!" excuse, but keeping them around gives the company some meaningful differentiation over most of the other flagships.
As a design used for two years in a row, the Galaxy S9 is still "fine." It's no better or worse than competing glass phones like the LG V30, and the S9 lets Samsung delay the inevitable switch to a notched design, which will allow it to eke out even more screen real estate. With slim bezel designs continuing to evolve and in-screen fingerprint readers on the horizon, we're at a point where smartphone design is changing rapidly; it's a bit disappointing to see Samsung stand still this year.
Listing image by Ron Amadeo
Source link