[ad_1]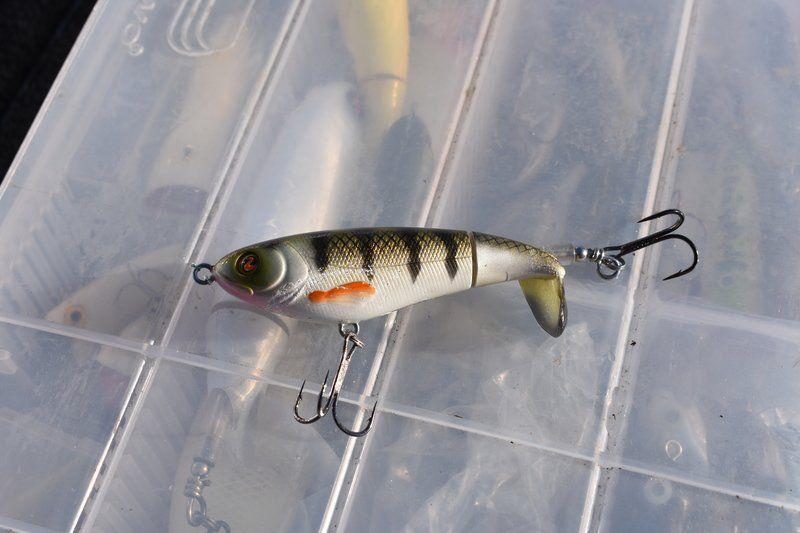 #ndn-video-player-1.ndn_embedded .ndn_floatContainer margin-top: 10px; margin-bottom: 20px;
#ndn-video-player-2.ndn_embedded .ndn_floatContainer margin-top: 10px; margin-bottom: 20px;
Topwater fishing is hot right now and I was recently turned onto an unusual lure by Traverse City fishing guide Chris Noffsinger that combines several of the characteristics that make surface baits so fun — and so productive.
The Whopper Plopper, by River2Sea, features a two-piece body; the rear half of the bait rotates on a shaft and has a large fin that catches water on retrieve. The result is a bait that throws a wake like a buzzbait (though from the rear, instead of the front) but is a true floater, so you can use a stop-and-go retrieve or mix it up as you might any other topwater bait.
Whopper Ploppers are available in three sizes; the smallest weighs a half ounce and measures 3 1/2 inches, the biggest weighs nearly three ounces and measures 7 1/2 inches. In this part of the country, the big ones are designed for muskies, but I'd bet the guys fishing for largemouths in big bass country are probably throwing them, too. They retail from around $10 for small ones to $18 for the biggest.
— Bob Gwizdz
#ndn-video-player-3.ndn_embedded .ndn_floatContainer margin-top: 10px; margin-bottom: 20px;
Source link