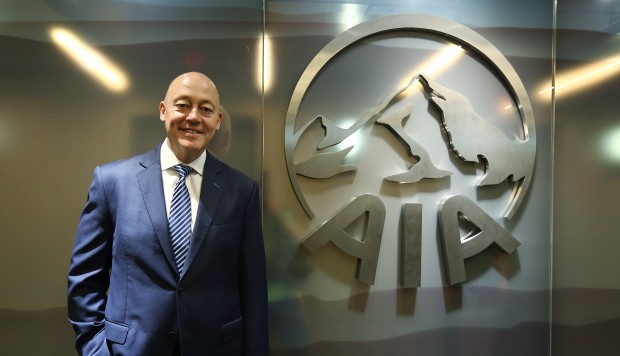 AIA, the largest life insurance company in Hong Kong, plans to invest more in technology to help its 14,000 agents sell more efficiently but has no plans to replace its sales team with digital channels, according to its Hong Kong chief executive Peter Crewe.
"Our younger agents and customers have a big appetite for technology. They want to do a lot of things the digital way. It is important for us to use technology to improve their experience with our products and services," Crewe told the South China Morning Post in an exclusive interview in his office in Quarry Bay.
"However, it would be naive to go fully digital for all our transactions without first listening to what our customers want. Many customers still want to do transactions via face-to-face meetings with their agents. I believe a hybrid model of using both online platforms and our agency sales force would continue for a long time."
AIA pays US$3 billion for CBA insurance unit in Australia and New Zealand
Crewe, originally from Britain, joined AIA 23 years ago and has worked for the company in different areas including Hong Kong, Indonesia and Australia before becoming its chief executive of Hong Kong and Macau in June.
AIA operates the largest insurance agent team in Hong Kong with a sales force of more than 14,000 at present, up 65 per cent from 8,500 in 2010.
"Despite the growth in number of financial planners, with individual agents getting older every year, our average age for financial planners remains the same at 40 years due to the new blood from younger agents," he said.
The younger agents like to use digital tools to sell, so AIA has invested heavily in technology, including an interactive point of sale (iPoS) solution which has been adopted by 90 per cent of the sales force. The iPoS allows agents to use their mobile tablet to do financial analysis, policy applications and process claims anywhere they meet with customers.
This speeds up the sales process substantially, with a simple policy application conducted via iPoS taking only six minutes instead of the three to four days turnaround when using the manual method involving paper documentation.
"This has increased the efficiency and productivity of each agent. We aim to invest more in other technology in our back office to become completely paperless to serve our 2.7 million customers more efficiently," Crewe said.
AIA Earnings Preview: is China market growth sustainable?
The insurer will also launch an online platform by the end of this year so its group insurance customers can top up their medical plans online.
For some simple products, such as travel insurance or personal accident insurance, Crewe believes customers may prefer to buy them online.
"AIA customers are digitally savvy as over half of our life business customers use the online platform to carry out common transaction processes. Close to 60 per cent of our customers like to use the online platform to handle fund-related transactions," he said.
However, Crewe believes online sales would not replace agents. The firm has no plans to move all sales online.
In overseas markets, simple products such as car insurance are only seeing less than 10 per cent of policies sold online, with most still sold through agents, which showed that customers like to buy through agents, he said.
For sophisticated life insurance products, which involve financial planning for 20 to 40 years of a customer's life, Crewe said many customers would prefer to talk to their agents in a face-to-face meeting.
"What we need to do is provide the right technology to assist our agents to ensure a good experience and efficient service for the customers," he said.
Source link