[ad_1]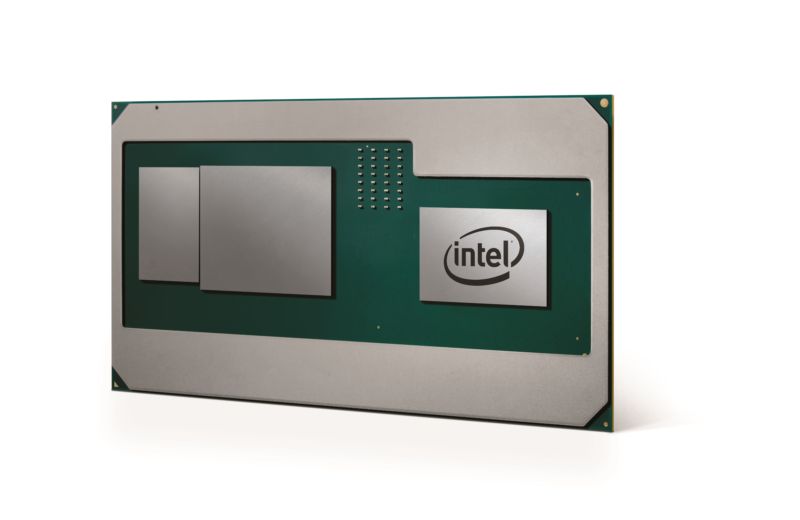 In a bid to build better chips for gamers and other PC enthusiasts, Intel has announced the 8th-generation H-series mobile processors will have a feature that's nothing short of astonishing: they'll integrate AMD GPUs.
The 8th-generation mobile processors currently on the market are U-series chips. These are 15W processors using a revised version of the 7th-generation Kaby Lake architecture. The GPUs of these chips are part of the same piece of silicon as the CPU. In moving from 7th to 8th generation, the number of CPU cores and threads doubled to four and eight respectively. Aside from some minor changes however, the GPUs' portions are largely unchanged since the 6th-generation Skylake.
H-series chips have a bigger power envelope; for the 7th generation, the chip can draw up to 45W. In the past, they've used that higher power rating to support more cores and higher clock speeds—they've had four cores and eight threads for several generations now—but they've sported substantially the same integrated GPUs as the low-power parts.
For the 8th generation, that's going to change. The chip package will contain multiple pieces of silicon: an Intel CPU, a custom-built AMD Radeon GPU, and stacked second-generation High Bandwidth Memory (HBM2). Connecting the GPU and its memory is Intel's new "Embedded Multi-Die Interconnect Bridge" (EMIB), a high-speed, short-range interconnect that Intel has designed to join different chips within a single package. Intel says that EMIB enables the creation of faster, thinner packages, enabling the multi-chip module to fit into slimline laptop form factors.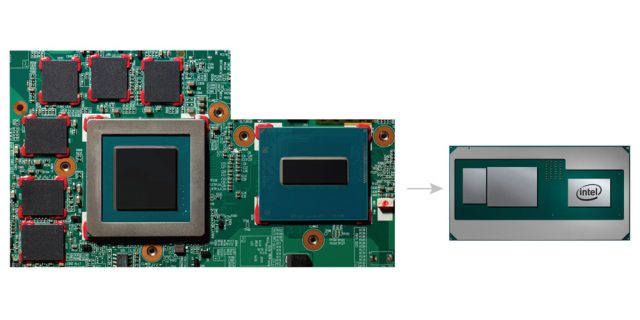 EMIB uses pieces of silicon to join the chips, rather than the circuit board traces found in conventional multi-chip modules. These pieces of silicon enable much denser packing of the interconnects. Overall, Intel claims that using EMIB shaves about 2.9 square inches (1,900 square millimeters) from the system motherboard and halves the power usage of a traditional design.
Single-chip integrated processors typically include complex power management systems to balance the power needs of the CPU and GPU while still striving to ensure that the chip as a whole remains within its power envelope. The new Intel chip will extend this kind of power management to the discrete embedded GPU. The Intel part of the package will still have its own integrated graphics; as is commonplace now on mobile systems, the integrated graphics will be used for tasks such as video decoding and regular desktop graphics workloads, firing up the AMD chip for gaming and other more intensive tasks.
The announcement is, of course, a little surprising. Intel and AMD have long been rivals, competing head to head across most of the processor market. This kind of collaboration and tight integration is new for both companies. But it also makes sense for them.
With the U-series moving up to 4C8T designs, Intel needs a way to push the H-series chips higher to justify their price premium. Adding more cores and threads would be possible but would make little sense for most buyers. Offering integrated-yet-discrete graphics, on the other hand, has some appeal. Embedding the AMD GPU gives the H-series part their edge over the U-series, doing so in a way that's much more relevant to many of the buyers of H-series chips than a mere increase in core count would be.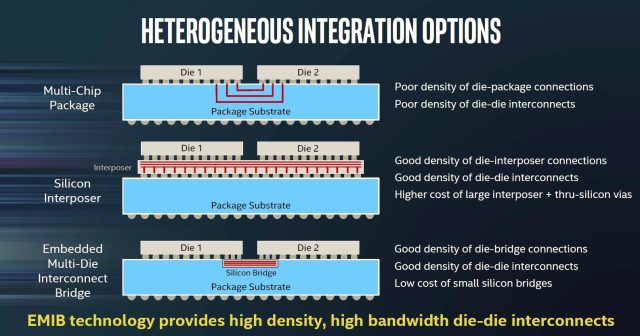 It also gives Intel the ability to use its EMIB technology in a mass-market part. The company anticipates using EMIB for all kinds of integrations, such as processors with embedded FPGAs or other specialized chips. This AMD integration will be a good showcase for using the technology at scale.
And for AMD, it gives access to a market that tended to lean on Nvidia. Single-chip integrated graphics, even those found in AMD's newly announced mobile Ryzen parts, just don't offer the same performance as discrete parts with dedicated memory. To offer the graphical performance that gamers want, those H-series chips are often paired with a mobile Nvidia GPU of some kind. With embedded AMD graphics, there's no longer any need to do that. Not only should the embedded AMD GPU offer performance that's in the same ballpark as a discrete GPU, it should also do so in a way that enables slimmer, more power-efficient systems.
We still don't know what the chips will cost, what their specs will be—a reasonable guess is that it will be Kaby Lake-R with Vega graphics, but exact core counts, memory sizes, and clock speeds are anybody's guess—as is when, exactly, they'll hit the market. We don't even know what the packages will look like; Intel has so far only offered a crude 3D render.
Source link