[ad_1]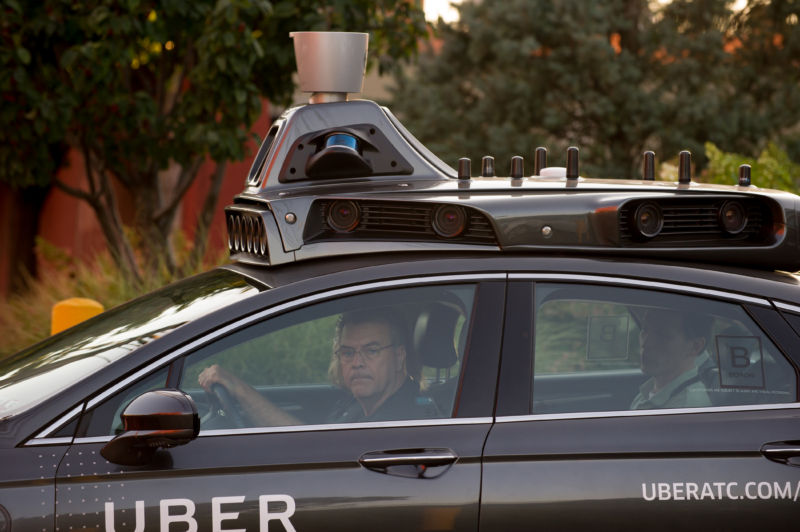 SAN FRANCISCO—During a heated court hearing here today, Waymo lawyers accused Uber's law firm, Morrison Foerster, of violating a court order by not handing over documents that Waymo says were illegally downloaded from Google.
Waymo filed a lawsuit in February, claiming that the former head of Uber's self-driving car project, Anthony Levandowski, downloaded more than 14,000 Google documents that contain trade secrets about self-driving cars, shortly before he left his job at the company. Levandowski then created a startup called Otto, which he sold to Uber for $680 million. Waymo has said that Uber has used those trade secrets, which were brought over by Levandowski.
Uber denies that any trade secrets were on Uber servers and says it built its own technology from the ground up. Levandowski, who is not a defendant in the case, hasn't denied downloading files—instead, he has pled his Fifth Amendment rights and refused to talk. Uber fired him in May for refusing to cooperate with court orders.
Today, Waymo lawyer Charles Verhoeven said that his team learned only on June 28 that Epiq, a litigation support firm that works for Uber and its law firm Morrison Foerster, had "a complete copy of the image of Levandowski's devices."
"We've been trying to get these documents since the outset of this case, and we still don't have them," Waymo lawyer Charles Verhoeven told US District Judge William Alsup.
Uber attorney Arturo Gonzalez protested that Waymo's explanation was misleading. It's true that a digital forensics firm, Stroz Friedberg, imaged Levandowski's devices as part of Uber's acquisition. But only a "tiny sliver" of those images came into Morrison Foerster's offices, where they were reviewed by a single associate.
The material came in at a time when Morrison Foerster, often called MoFo for short, was representing Levandowski in an arbitration over his departure from Google. Gonzalez said he "pulled the plug" on the documents being reviewed once he saw that a conflict was developing between Uber and Levandowski.
He also pointed out that it's Levandowski who is arguing that the documents are protected by a joint defense privilege. It's Levandowski's lawyers, not Uber, who have appealed the issue to the US Court of Appeals for the Federal Circuit, which still has not ruled on the matter.
"Once the Federal Circuit rules, this will be reviewed under whatever protocol we agree to, and produced," said Gonzalez.
"We have repeatedly asked, specifically, for the Google documents," said Verhoeven. He continued:
Up until June, they said they didn't have it. That MoFo didn't have it. That was false. That is not protected by the Fifth Amendment. They didn't tell us, intentionally—until they were forced to, when we finally battered them down after a dozen motions.
Alsup generally seemed sympathetic to Verhoeven, although he said he would wait for the Federal Circuit ruling. When he pondered a solution to the matter, he said he was inclined to tell the jury exactly what happened.
"I am concerned that Mr. Gonzalez failed to disclose that he had the documents," Alsup said. "He took a long time to come clean. Maybe he can get on the stand and explain it away. I am inclined to tell the jury exactly this scenario—that he was ordered to come clean and did not come clean. Then finally in June and July, he comes clean."
"You've bought into a completely false narrative," Gonzalez said. "We're not trying to hide anything. This trial is against Uber. Uber didn't even know MoFo had these documents. The downloaded materials are not at MoFo, and Uber didn't even know we had these materials."
Damages and trade secrets
The arguments over Levandowski's documents were part of a series of three motions that will lay the groundwork for an October trial, now less than 60 days away.
In addition to hearing arguments over Levandowski's imaged devices, Alsup heard two other motions filed by Uber: one attacking Waymo's damages case and another attempting to limit the trade secrets that Waymo can present at trial.
"Uber does not have [damage] calculations, the basis for them, the theories and methodology that they're going to rely on," said Uber lawyer Karen Dunn. "It may be time to face up to the fact they want an injunction. They don't have a damages case at all—it's a non-commercialized market."
A Waymo attorney countered that the company had provided a 26-page narrative outlining its damages theories.
"We just got Uber's side of the ledger yesterday," said Waymo attorney Melissa Baily. "So now we have nine days [before the end of discovery] to take that into account. We can't do a complete analysis without that information."
Alsup didn't rule on the damages matter, saying that he needs to see where the two sides come out on the matter.
"Then it will be clearer how fair or unfair the process has been," he said. "This piece of the controversy will be held in abeyance for a while."
A final motion, over limiting Waymo's alleged trade secrets, was held in closed session.
Source link