The AMG GT R Pro is the road-legal sum of Mercedes-AMG's expertise in production-based motorsport. It exists for one purpose only: so that a small number of rather well-heeled owners can drive it to a trackday, spend many joyful hours lapping the circuit and fiddling with damper clicks between sessions, then drive home again at the end of the day. This is a car that really should be used as intended, and not left to gather dust in a climate controlled lock-up somewhere.
The drivetrain is unchanged compared to the GT R. The Pro uses exactly the same 4-litre twin-turbo V8 that develops 577bhp and 516lb ft of torque. Drive goes rearwards via the transaxle that houses a seven-speed twin-clutch transmission. Mercedes-AMG quotes a 0-62mph time of 3.6 seconds and a 198mph top speed.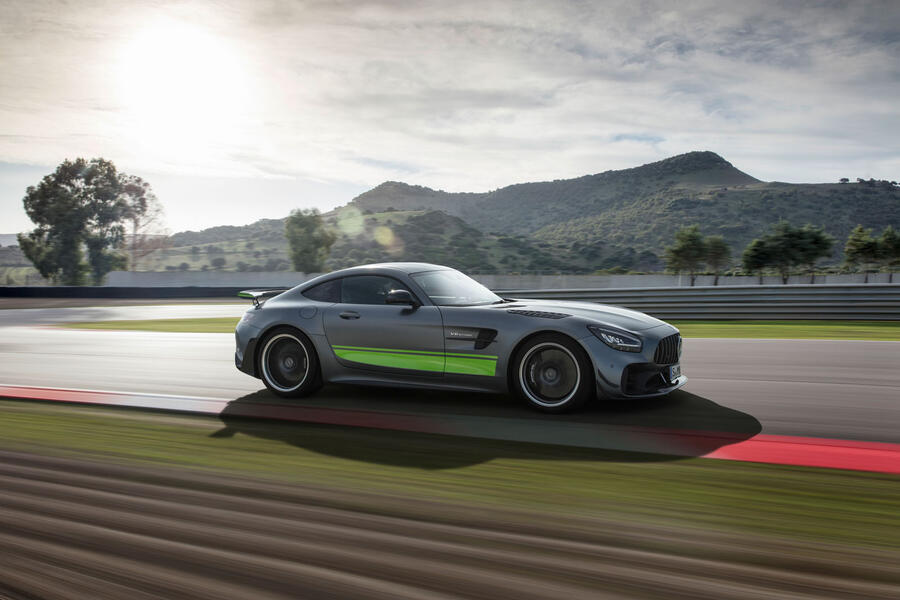 What's it like?
Taut, responsive, agile and exceptionally well controlled. Quite how that uncompromising chassis setup will deal with a bumpy public highway is anybody's guess, because for now we've only tried the car on Hockenheim's flat and smooth grand prix circuit.
What's curious about the GT R is that it's pretty firm and unyielding on the road, but then just a little loosely controlled and hesitant on circuit. This new Pro model addresses almost every one of the on-track criticisms we've levelled at the GT R because it feels so at home on a circuit. There is a little body roll to allow you to feel the grip building along the outside of the car, but otherwise the Pro is keyed-in to the track surface. The instant the front axle is locked into a bend the car takes a set, as though it's dropped into a groove, then carves its way through the corner. There's none of the hesitancy or up-down heave that could make the GT R a wild ride, just immediate and precise responses.
The steering is fairly light but intuitive while the brakes didn't show any sign of fade during a quick four-lap stint. What counts against the GT R Pro is its sheer size, because the front axle feels so far ahead of you and the car's nose in another county altogether. It's wide as well, all of which means there's a significant familiarisation period while you learn where the car's extremities are. And despite the Pro's weight saving measures, 1575kg is still a significant amount of weight for a trackday machine.
It is an absorbing and thrilling track car, though. Being able to fiddle with its chassis settings adds another dimension to a trackday and allows you to play out your race engineer fantasies. It isn't a particularly difficult car to drive quickly, though, nor is it intimidating. All that results from an overcooked corner entry is predictable and safe front axle push. There is good traction as well thanks to the transaxle layout and an electronically-controlled LSD, although with so much power on tap it is easily overcome with a generous extension of your right foot. The multi-stage traction control system that first appeared on the GT R is present here too, which means you can find the exact right setting for a given circuit and the conditions on the day to balance security with playfulness.