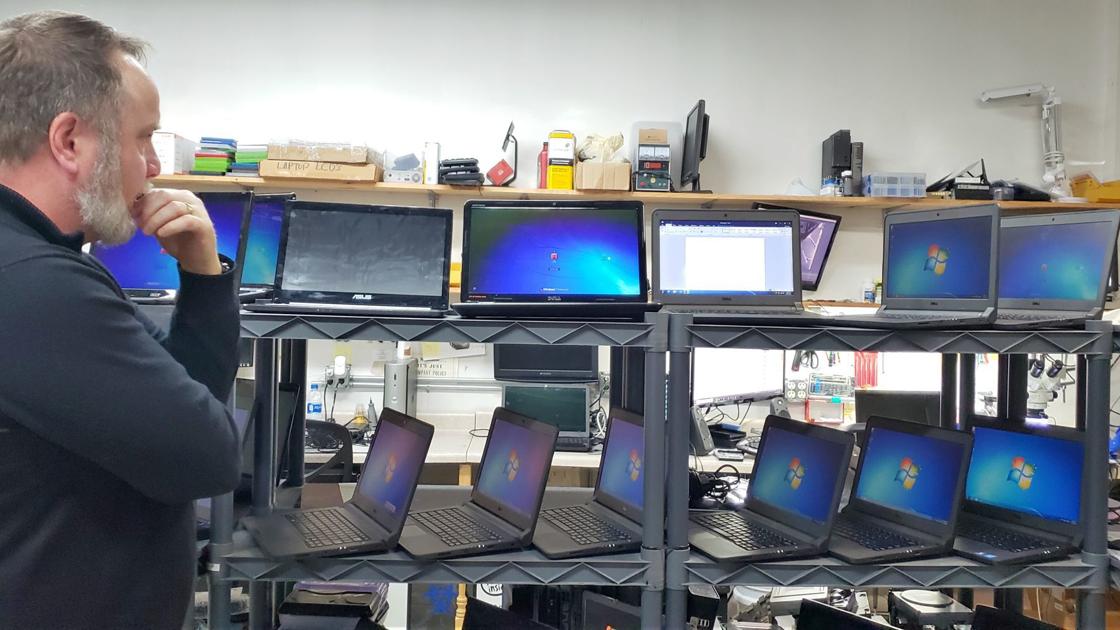 NORMAL — Imagine learning how to drive without ever sitting in a car.
A junior high school class in Ghana, Africa, has been learning how to operate a computer without using the technology.
With the school laptop and his personal laptop both broken, teacher Richard Appiah Akoto used chalk to draw a detailed diagram of a computer screen on the blackboard of his classroom last month to teach information and communication technology.
He posted a picture of the elaborate chalk-computer on Facebook. It went viral and was shared by several media outlets. It was also seen by Terry Ballantini, chief operating officer of Normal Gadgets, a cellphone and computer repair shop at 2103 N. Veterans Parkway in Bloomington.
"This gentleman had to re-create the functions and programs on a laptop by drawing it on a blackboard and the students have to take notes and learn from there without electronics. It amazed me that he did this every day with a passion," said Ballantini.
Ballantini sent Akoto a Facebook message, asking if the Normal Gadgets crew could send refurbished laptops to the African school.
Akoto, who goes by Owura Kwando Hottish on Facebook, was recently invited by Microsoft to attend the Education Exchange conference in Singapore. Microsoft will partner with the teacher to provide device and software support for students and professional development for the teachers.
Akoto also accepted the offer from Normal Gadgets to get laptops in the hands of many of his 47 junior high students.
Ballantini sent out requests for donations of used laptops through Facebook, Bloomington-Normal Sunrise Rotary Club and local school districts.
Twenty used laptops were donated to the business where Randy Puckett, senior tech employee, wiped the computers and installed updated software.
"The difference of learning on laptops versus looking at it on a chalkboard is tremendous. I can't fathom learning like that. So many people learn by doing and this will be a great opportunity for them," said Puckett.
Ten laptops were donated from McLean County Unit 5 and others came from Normal Gadgets stock, individuals and organizations, including Compeer Financial, CertaPro Painters and Orthodontic Associates of Central Illinois.
Tony Kerr, a field engineer with Compeer Financial, said the cooperative often donates old technology to local schools, so "it wasn't a difficult decision" when asked to help a school outside of Central Illinois.
"I was completely impressed by (Akoto's) ability to teach technology and draw out the screens, but at the same time I was sad that the school could not provide the tools to teach students correctly," said Kerr, of Minier. "I hope this gives them a chance to learn more technology and get hands-on."
Steven Schroeder of Normal also donated a laptop to the cause after hearing about the need at a Rotary club meeting.
"I work for The Salvation Army and we have many programs where we're trying to help people get in a better situation. This is an opportunity to do the same thing but not on a local level," said Schroeder. "I'm happy Terry is doing it. It shows his character and I'm happy I can help."
Ballantini packaged the updated laptops and shipped them to Africa last week. He said Normal Gadgets will continue to collect devices to either send to Africa or another school in need.
"We want to do more than just be the place to come when you break something," said Ballantini. "I have some really smart guys and gals that work for me with great hearts. Yes, we fix things, but we also want to make a little difference."
Source link