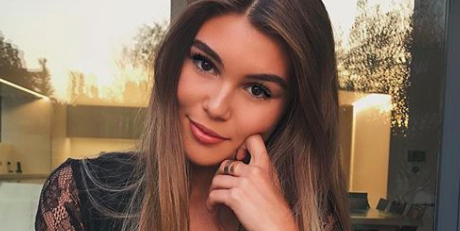 Olivia Jade reportedly doesn't want to post on social media for a whole year.
This is especially interesting considering that she's an Instagram influencer with more than a million followers…
---
Idk what type of big questions you've been pondering on this fine Saturday morning, but if they're anything like mine they look something like: "What am I going to do with my life? What should I eat for lunch? And what the heck is going on with that whole college scandal?" And while I really can't help you with the first two, I think we could all use an update on Operation Varsity Blues, aka the scandal where rich people and celebs like Felicity Huffman and Lori "Aunt Becky" Loughlin used bribery to get their kids into college.
Ever since the news broke that Lori and her husband Mossimo Giannulli allegedly agreed to pay half a million in bribes to make it seem like their daughter Olivia could row and therefore could be recruited to the USC crew team/admitted to USC, things have not been great for beauty vlogger/influencer Olivia Jade. She lost her sponsorship deals with Sephora, TRESemmé, and Estée Lauder, got into a huge fight with her parents, broke up with her boyfriend, and has been hiding out.
However, one of Olivia's top priorities amid all of this has been trying to figure out how to make a comeback as a beauty influencer/rebuild her brand. And apparently one of the ways that OJ is trying to do this is by not posting on Instagram—for an entire year!
In a new vid, fellow YouTuber Tana Mongeau talks about Olivia, saying, "She openly tells people, 'I'm not gonna post on social media for the next, like, year.'" And if you look at Olivia's Insta—where she still has 1.4 million followers—she's been sticking to that. OJ hasn't posted since February, before the scandal broke.
And FYI, last month a source shared that, "[Olivia] wants to come out looking like she's changed, learned life lessons, and is growing as a person." So, seems like this social media detox might be part of her master plan…