Qualcomm's chips are not always just for the high-end flagship mobiles like the Snapdragon 845, new generation Windows-based laptops, and VR/AR standalone devices – there are of course, more budget minded chips for when you don't need the best of the best. It's with these three new chips that Qualcomm is expanding various performance brackets in the mid and low-end markets
Generally, the way these chips work is that they feature technologies that were originally in higher-end chips a generation or two ago, but due to size reductions and improvements, can be fitted into lower end models, and that's basically what the Snapdragon 632, 439 and 429 encompass.
The 632 is for higher mid-range phones and devices, as it has an 8-core Kryo 250 CPU (split with 4 big and 4 low power cores), an Adreno 506 GPU, support for a single 24MP camera, or dual 13MP cameras (although other configurations exists), and it's topped off with the X9 LTE modem.
One of the things that Qualcomm has done is try to keep the 632 pin compatible with other SoCs, such as the 626, 625, and 450 SoCs, meaning that near drop-in replacements can be done for a broad range of devices, using the same PCB layout (reducing costs further).
The 439 and 429 use X6 LTE modems, and the lower-end ARM Cortex A53 CPUs, with Adreno 505 and 504 GPUs respectively. The 429's low-end GPU does limit its display capabilities to 720p resolutions (or thereabouts), while the other two can handle full HD 1080p and up (mainly for video processing). In addition, the 429 forgoes the split CPU design of 4 big cores and 4 little cores for power efficiency, and instead just uses the 4 big cores. However, the GPUs in the two new 400-series chips are meant to be up to 50% faster overall compared to the last generation (the 430 and 425 respectively).
An interesting feature as well that may not be whole relevant to the US market, but is useful around the world – and more specifically India, is Dual SIM VoLTE support across all chips, meaning that both SIMs can use LTE networks, instead of being limited to the primary port.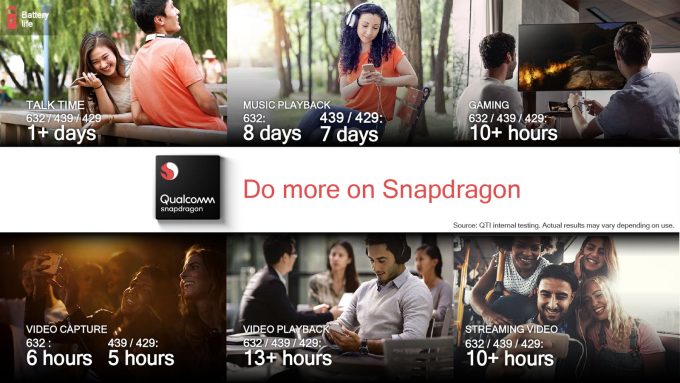 Since this is 2018 and every tech product has to have some form of AI as well, so do these three new chips, supporting Qualcomm's own Neural Processing SDK, the native Android NN APU, as well as Caffe and TensorFlow frameworks. These let the chips do some internal processing using already trained algorithms. Most of this is used for voice recognition, face detection and unlocking, image styling, and object detection (useful for VR and various camera effects).
Due to the drop in replacements for a couple fo these chips, you can expect to see these more budget devices popping up in the market towards the second half of the year.