What are the cryptocurrency projects that are planning big releases, upgrades, updates or even launches of their mainnet in February? Which coins are worth keeping an eye on this month? These are the three coins to watch for in February…
With the bears ever clawing their way ever deeper into the crypto industry, it's fairly understandable to watch investors lose interest. However, conversely, a bear market often proves an opportune time for coins to develop, and grow, not only their community but their technological developments as well.
With that in mind, Chepicap brings you the three coins to watch for February 2019.
First up:
Zilliqa (ZIL)
Scalability, without sacrificing decentralization, is the holy grail for most cryptocurrencies; for Zilliqa (ZIL), it is a primary objective.
Known as the high-throughput blockchain platform, Zilliqa emerged from a growing necessity to scale. After witnessing scaling problem with existing blockchains such as Ethereum and Bitcoin, the Zilliqa team decided to create a platform which combatted the scaling problem head-on; using on chain sharding to allow many transactions to be processed on a smaller scale along the network. This resulted in Zilliqa being able to process nearly 3000 (approx 2828) transactions per second (TPS).

Click for larger image
Mainnet launch
One of the reasons Zilliqa is a coin to watch for February is down to its upcoming mainnet launch. Though this is technically on the 31st of January, the repercussions of such a large release will be evident throughout the following month.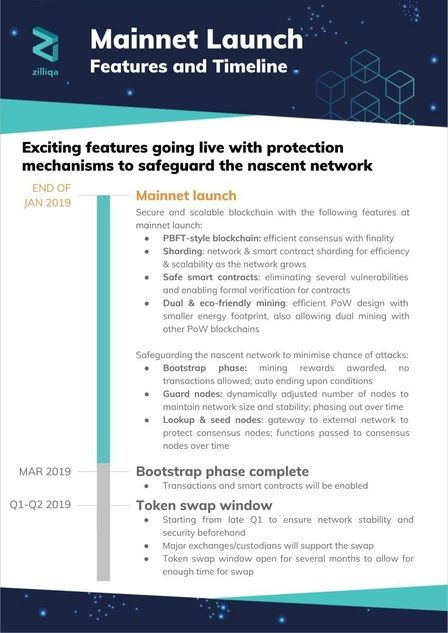 The mainnet will launch with a number of novel features, including a Practical Byzantine Fault Tolerance (pBFT) based blockchain. Byzantine fault tolerance is a type of consensus model which combats the Byzantine generals problem, a universal issue experienced by all distributed networks; put simply, inconsistencies, lead to catastrophe. Innovative solutions, such as pBFT, combat this issue by mitigating the influence of malicious actors, or inconsistencies on a distributed network. PBFT also adds finality meaning there is no need for confirmations, creating a speedier transaction.
"Safe smart contracts" are another feature to be implanted upon launch by making use of Zilliqa's self-developed programing language dubbed, Scilla. The language is not Turing complete, because of this it won't support all applications, but due to the fact that it's 'incomplete' means that it can be verified, validating smart contracts and making them "safe".
 "Dual & eco-friendly mining" will also go live with the mainnet. For mining,  Zilliqa utilizes a unique combination of Proof of work (POW) and the aforementioned pBFT. Using POW for roughly 1 minute every 2-3 of any given mining cycle results in lower energy cost. the combination of these two consensus mechanisms also enables dual mining of any Ethash-powered POW blockchain.
Sometime after the mainnet launch, supposedly in Q1, Zilliqa will initiate its token swap from ERC-20 standard to the new mainnet token ZIL.
Happy to announce Upbit Exchange will be supporting the Zilliqa mainnet token swap. Please note the full list of exchanges supporting the swap will be announced after mainnet launches. https://t.co/tuzyHcJGN6 pic.twitter.com/xygotpYxF9

— Zilliqa (No airdrops or ETH giveaways) (@zilliqa) January 28, 2019
It seems certain that a lot of Zilliqa updates and releases will be announced after the mainnet goes live, making ZIL one of our coins to watch for February.
ZIL sits at a current price of $0.020373
Next:
TRON (TRX)
Tron aims to become a global digital content entertainment system, vying with competitor platforms such as Ethereum to gain supremacy over the decentralized application market and eventually a world leader in digital entertainment consumption.
Headed by its CEO, Justin Sun, and backed by a powerfully loyal community, TRX has become one of the most popular cryptocurrencies in the industry.
The company has gone from strength to strength since the release of the Tron Virtual Machine (TVM) citing a total of 142 Tron dapps, 6 of which occupy the top 10 dapps of all time, putting rival platform, Ethereum, to shame. Furthermore, the number of registered accounts continues to increase, currently sits at a massive 1.42 million.
TRON #DApps has increased by 25 compared with last week. DApps total number is 142 and the weekly growth is 20%. Total number of accounts on #TRON registered 1.42 million and daily transaction reached around 3 million, maintaining a rapid growth. #TRX $TRX https://t.co/OTYvjax6wa

— Justin Sun (@justinsuntron) January 18, 2019
BitTorrent acquisition
2018 was a big year for Tron, from the launch of its mainnet, and the TVM, to the $140 million acquisition of peer to peer file sharing network BitTorrent, and the subsequent initiation of project Atlas. Sun claims that the purchase will eventually make Tron the "largest decentralized Internet ecosystem in the world."
#TRON Acquired @BitTorrent for USD$140 Million, Blockchain Injects New Energy into BitTorrent, thanks for the report made by @Smartereum #TRX $TRX https://t.co/iqZp7fXleb pic.twitter.com/8VaBdxVU3u

— Justin Sun (@justinsuntron) July 25, 2018
Project Atlas
The plan, evidently, was to update BitTorrent for the crypto generation, tokenizing the platform via the sale of its token BTT. The benefit for Tron was the migration of over 100 million active of BitTorrent users over to Tron, and Vice versa. The project looks to incentivize file sharing on the BitTorrent platform via the integration of a new Tron based TRC-10 token BitTorrent (BTT). The larger picture for project atlas is to combine the TRON blockchain network and BitTorrent P2P network to effectively create a new internet.
Today @BitTorrent unveils its new token BitTorrent $BTT which features native TRC-10 compatibility and will be exclusively available to non-U.S. accounts on #BinanceLaunchpad, the token sale platform by leading cryptocurrency exchange @Binance! More info👇https://t.co/ydsu4gI9FJ

— TRON Foundation (@Tronfoundation) January 3, 2019
BTT airdrop
February undoubtedly holds promise for TRON, especially with the recent BTT token sale. Putting the rights to BitTorrent to good use, Sun announced a series of periodic airdrops of the newly minted BTT token for all TRX holders.
The first of which takes place on the 11th of February. The airdrop will be issued to any holder of TRX on a one to one ratio, i.e. for every TRX held, one BTT will be airdropped.
A massive 10.1% of the circulating supply of the BTT token will be airdropped in varying degrees up until 2025.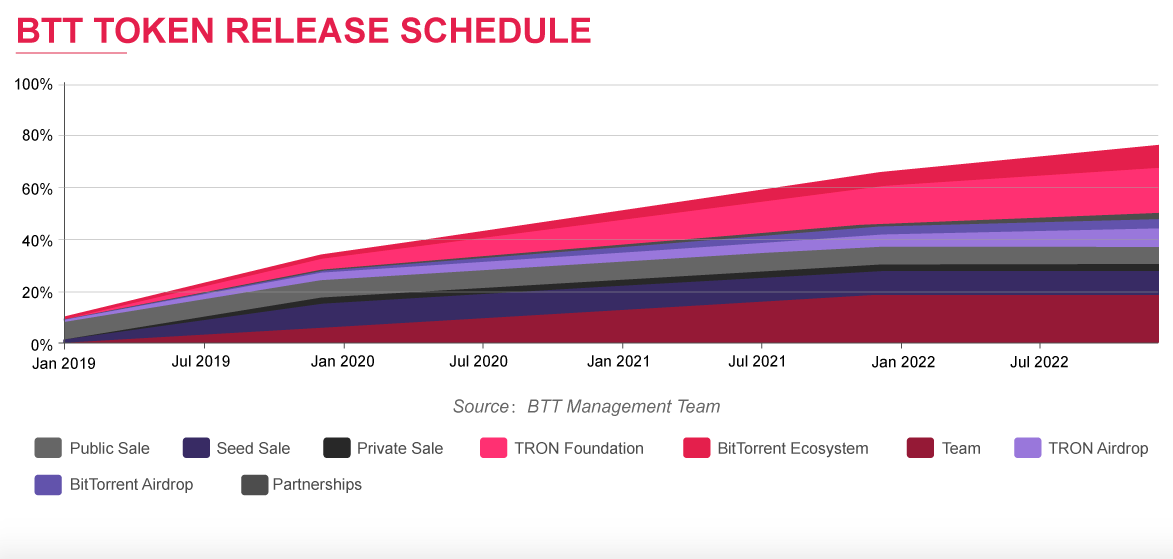 TRX sits at a current price of $0.027545
Last, but not least:
Binance Coin (BNB)
BNB is the native cryptocurrency of the worlds leading crypto exchange Binance. BNB provided early funding for Binance through its distribution in the ICO back in July 2017.
Based on the Ethereum network, BNB is an ERC-20 token, which is currently most widely used for paying fees on the exchange. BNB will most likely be implemented into the company's upcoming public blockchain, Bianace chain.
Binance Chain
Announced back inMarchh 2018, Binance Chain is as ambitious, as it is unprecedented, seeing the company acquire its own mainnet. Instead of running on the Ethereum network, BNB will act as a native token on its very own blockchain.
#Binance is pushing for blockchain adoption and doing many things to help advancement of the industry. E.g. we will have the Binance chain ready in the coming months, on which millions of projects can easily issue tokens. @cz_binance @ForbesAsia #ForbesBlockchain pic.twitter.com/0pc0r1lXd2

— Binance (@binance) December 4, 2018
Binance chain could well be launched next month, with the company pointing to initiation at some point in Q1.
According to the firm, Binance chain "will transition from being a company to a community".
In a recent interview CEO of Binance, Changpeng Zhao aka CZ noted that Binance Chain was both fast and cheaper than the would-be rival, Ethereum:
"On Binance Chain you'll get one-second transaction confirmation, one confirmation is final, so it's a much fast chain and the transaction fees are cheaper, there's a lot of advantages for them to move to the Binance chain, which uses a native DEX."
Binance DEX
Going almost hand in hand with Binance Chain is the exchanges' highly anticipated decentralized exchange. Binance DEX is said to be launching in early Q1 of this year with CZ announcing that he expected the DEX to be ready by late 2018/early 2019 (so every reason to keep an eye out in Feb).
The new exchange will feature a wallet in which users can store any token they wish to trade and will utilize BNB as a quasi 'gas' for transactions. Being a decentralized exchange the Binance DEX will offer a high level of security with data spread across multiple points.
BNB sits at a current price of $6.11.
That concludes our coins to watch for February, join Chepicap next month for more cryptocurrencies to keep tabs on!