Uber Technologies Inc.'s new chief executive officer has been projecting the image of a kinder, gentler, more humble and responsible company. These are all good things. Yet under CEO Dara Khosrowshahi, Uber continues to articulate a perhaps contradictory strategy: He wants the company to spend like crazy but also to pare costs and prepare for an IPO next year.
The cherry-picked financials that Uber disclosed on Wednesday showed a large and fast-growing company that continues to post hefty losses. Uber said that in the first quarter it generated about $2.6 billion in revenue, mostly from the share of each Uber ride that the company keeps after handing over the vast majority to drivers. That was a 70 percent jump from a year earlier, Bloomberg News reported.
Uber continues to be unprofitable excluding the effect of the company's sale of its ride businesses in Russia and Southeast Asia. It's tough to assess how successfully Uber is paring costs because the company hasn't reported financial information uniformly, which makes it difficult to compare current figures with previous results. Uber is also spending like mad, including to expand outside its on-demand ride business. In a statement, Khosrowshahi said Uber planned to "revinvest any over-performance" of its on-demand ride business into that operation and newer, costly projects such as driverless cars.
That is not the kind of talk you would expect from the CEO of a company that is trying to get lean and mean for an IPO. And until recently, I would have thought that Uber would have a tough time going public if it was still posting eye-popping losses. But then came the successful 2017 IPO of Snapchat parent company Snap Inc., which had a short track record in business, was burning cash like crazy and whose loss in the year before its IPO amounted to more than 100 percent of its revenue. On the same basis, Uber's first-quarter loss was about 20 percent of its net revenue, excluding the effect of the Southeast Asia and Russia sales. Snap showed that investors were willing to accept hefty valuations for unproven companies with gigantic losses and uncertain business models.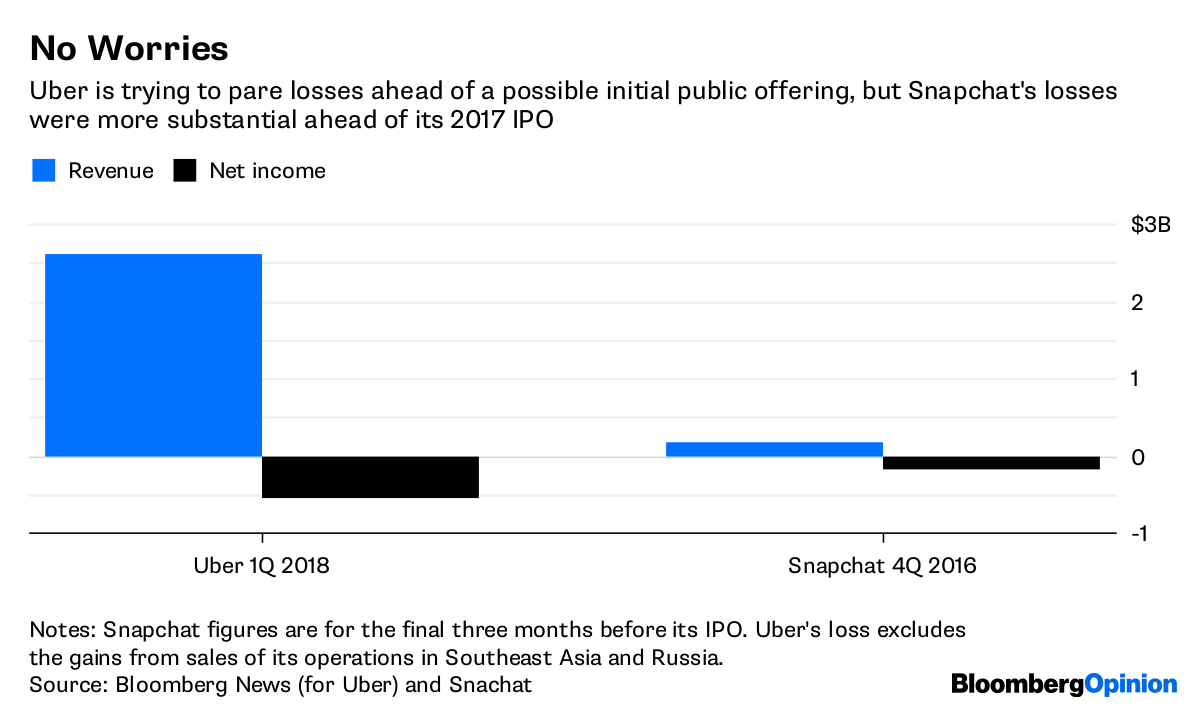 At this point, I have to question why Uber feels the need to go public at all. It's odd for me to write this. I think there is useful discipline in companies being public, and companies are better off if they can finance themselves rather than becoming dependent on a constant stream of outside cash. But my colleague Matt Levine has been writing for some time that private companies are the new public companies. And Uber fits that bill, too.
For years now, Uber has had a line of investors willing and able to give it capital. Its employees and early investors are no longer waiting on pins and needles to cash out their shares because investors including the Japanese conglomerate SoftBank have agreed to buy stock directly from some Uber workers and shareholders. The company also said Wednesday that a group of three investment firms had agreed to buy hundreds of millions of dollars in more stock from existing investors.
Cashing out employees and investors and gaining access to large amounts of capital are activities that used to be confined to public companies. But that hasn't been true for some time, and it's definitely not true for Uber. I never believed CEOs of young tech companies that professed a desire to never go public. It felt like a Peter Pan-like desire to never grow up. But Uber might be the company that is able to stay in Neverland forever.
Uber is the perfect company for the post-2010 period in the technology industry. It has been engineered for an era in which capital is easily available for a tiny handful of superstar private startups and whose investors are eager to bankroll ambitious companies that want to grow big and fast no matter the costs. Uber fell on its face because its prior management broke too many rules. But its new management could borrow some of its rule-breaking by breaking the model of going public entirely.