[ad_1]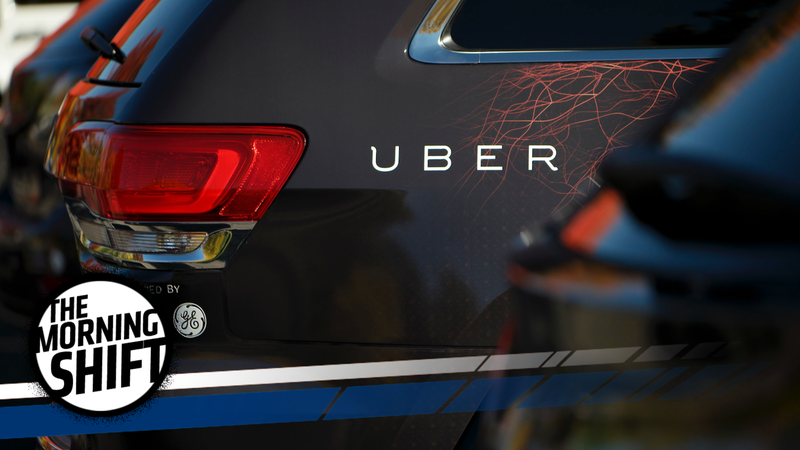 Good morning! Welcome to The Morning Shift, your roundup of the auto news you crave, all in one place every weekday morning. Here are the important stories you need to know.
1st Gear: Will The Uber Drama Ever End?

Former CEO Travis Kalanick is the ex that just won't go away for Uber, the ride-sharing company valued at $70 billion despite a number of high-profile PR black eyes this year.
On Friday, Kalanick—who remains on Uber's board—appointed two new members to said board, surprising more than a few. Now, according to Bloomberg, the company's directors are planning their own moves to weaken Kalanick's influence, to be voted on by the board tomorrow.
From Bloomberg:
The reforms have three major objectives: create equal voting power among shareholders, move the closely held company toward an initial public offering in the next two years, and limit Kalanick's power as a shareholder and board member. Kalanick sees the changes as poor corporate governance, meant to shift authority to Khosrowshahi and away from the board, a person familiar with the matter said. And many of the proposals — including a mechanism to push Uber toward an IPO if more than a third but less than half the board support — are indeed unusual.

"I hope nobody puts this into a model of good corporate governance," said Ken Bertsch, executive director of the Council of Institutional Investors. "But they're dealing with a specific problem in any way they can, and the problem is excessive power for the former CEO, who has the potential to undermine the authority of the new CEO. So I am pretty sympathetic to them."

Kalanick, who hugged Khosrowshahi at an all-hands meeting in September, has tried to show his support for the new CEO. But Kalanick's decision without warning to name two board members late Friday afternoon put him at odds with his successor. In an email to employees, Khosrowshahi called the decision "disappointing," writing, "Travis appointed two new members to Uber's Board without discussing it with me or the Board of Directors more broadly. Anyone would tell you that this is highly unusual."
Uber is getting very used to "highly unusual" things.
2nd Gear: Puerto Rico's Reliance On Cars Is Posing Problems For Recovery Efforts
Rebuilding and recovery efforts in Puerto Rico have been hampered by a lot of things. Bloomberg reports Monday on an additional complication: the island's reliance on cars. Not unlike most of the mainland United States, car culture in Puerto Rico is deeply ingrained, and public transportation options limited, all of which has caused some problems.
From Bloomberg:
Drivers desperate for gasoline are waiting for hours in lines that stretch half a mile or more. One in San Juan on Friday ran from Sixto Escobar Stadium, down the entire length of the Escambron beach, around a bluff overlooking the ocean, and past El Hamburguer and a KFC before arriving at a Shell station.

[…]

Governor Ricardo Rossello has tried to tamp down any panic by giving a running tally of how many of the island's 1,100 gas stations have reopened. (It was about 66 percent as of Sunday). And on Friday, he held out the prospect of more truck drivers to deliver supplies.

"As we get more assets, we'll be able to distribute fuel more effectively, efficiently and our expectation is to start reducing the long lines," he said.

For now, though, that is little solace to drivers still struggling to fill their tanks. Everyone whose job wasn't blown away by Maria is anxious to get to work and get paid so they can rebuild their lives.
Here's how you can help in Puerto Rico:
3rd Gear: There's A Massive Recall Of Nissans In Japan
It's around 1.2 million cars, according to Reuters, recalled because final inspections of the vehicles weren't made by authorized technicians. The recall only affects cars made for the Japanese market.
From Reuters:
Japan's second-biggest automaker said the recall would cost it around 25 billion yen ($222 million) to re-inspect cars produced for the domestic market between October 2014 and September 2017, which include top sellers the Serena minivan and the Note compact hatchback.

"We must take the registration framework and procedures seriously, regardless of how busy we may be or how short-staffed we may be," CEO Hiroto Saikawa told reporters at a media conference.

"We apologize for the inconvenience caused to our customers."

Saikawa added the company was investigating how and why the inspections took place, a process expected to take around a month. A third party will participate in an internal investigation into the matter, he said.
Over a million vehicles is … a lot of vehicles.
4th Gear: Gasoline-Powered Cars Are Now Outselling Diesel-Powered Cars In Europe
It's the first time since 2009 that that has happened, according to CarScoops.
From CarScoops:
The European Automobile Manufacturers Association (ACEA) reports that petrol car sales have increased by almost 10 per cent in the first half of this year compared to the same time period in 2016. Consequently, petrol car sales now account for 48.5 per cent of all passenger car sales, 2.7 per cent more than in 2016 and greater than diesels for the first time since 2009.

At the same time that petrol sales increased, demand for diesel vehicles fell. In 2016, diesels accounted for 50.2 per cent of passenger car sales but that figure has now slipped to 46.3 per cent. In the first six months of 2017, there have been 152,323 fewer diesel vehicles sold in Europe than in Jan-Jun 2016.

Alongside the decreased demand for diesels, sales of hybrid, electric, LPG and natural gas-powered vehicles have increased by over 35 per cent to now represent 5.2 per cent of the total car market.
Diesel has long been the king of fuels in Europe, but with widespread diesel cheating allegations there pushing the market toward electrification at an even faster rate than initially imagined, that king status not likely to last.
5th Gear: Hyundai Is Really Trying To Make Genesis A Thing

Genesis cars have been sold alongside Hyundais in their parent company's showrooms across the U.S. for years now. But by 2020, Hyundai wants its luxury brand to have its own showrooms, even if that means having far fewer dealers selling Genesis.
The whole point? Making Genesis its own distinct marque, as Hyundai and Kia hope to make a dent in the luxury-car market dominated by European manufacturers.
From Automotive News:
Genesis aims to establish shop standards by the end of this year to clear the way for independent U.S. showrooms, Genesis General Manager Erwin Raphael said.

The move is part of a retail overhaul to give Genesis a distinct identity, separate from the Hyundai brand, and cull the number of dealers selling the brand to boost individual dealer profitability. Since the brand's creation in late 2015, Genesis has been sold alongside mass-market Hyundai models in the U.S.​

"The reality is, many, many luxury customers tell us they love our products, they're amazing, but I'm not going into a Hyundai store to buy it," Raphael told Automotive News​ in September on the sidelines of the Genesis G70 sport sedan launch here at the Hyundai Motor Group's global r&d center outside Seoul.

"It's really hard to have the two cultures cohabitating," Raphael said. The split, he said, would benefit customers and dealers. "We realize it's complicated, but it's necessary."
We like Genesis around these parts, and wish it well.
Reverse: The First Post-WWII Race At Watkins Glen
Watkins Glen's illustrious includes twenty years of hosting the U.S. Grand Prix, from 1961-1980. But before all that, on this day in 1948, the town hosted its first every post-World War II race in what would be the beginning of a long tradition. From History:
Before the race could happen, [founder Cameron Argetsinger] needed to get permission from nine different state agencies and the New York Central railroad, which agreed to suspend train service through Watkins Glen for the afternoon so that the drivers could cross the tracks safely. (As a result, some people refer to October 2 as "the day the trains stopped.") Twenty-three cars participated in that first race; Argetsinger and his MG finished ninth.

By the end of the decade, the event was drawing 100,000 spectators each year and in 1956, after a couple of race-day accidents on the public roads, the town built a brand-new course especially for its Grand Prix. In 1961, the Watkins Glen race became the only American stop on the Formula One tour ("A biscuit," one reporter wrote, "reincarnated as a brioche").
[
History
]
Neutral: When will this increasingly-boring Uber drama end? I'm thinking probably never.
Source link