[ad_1]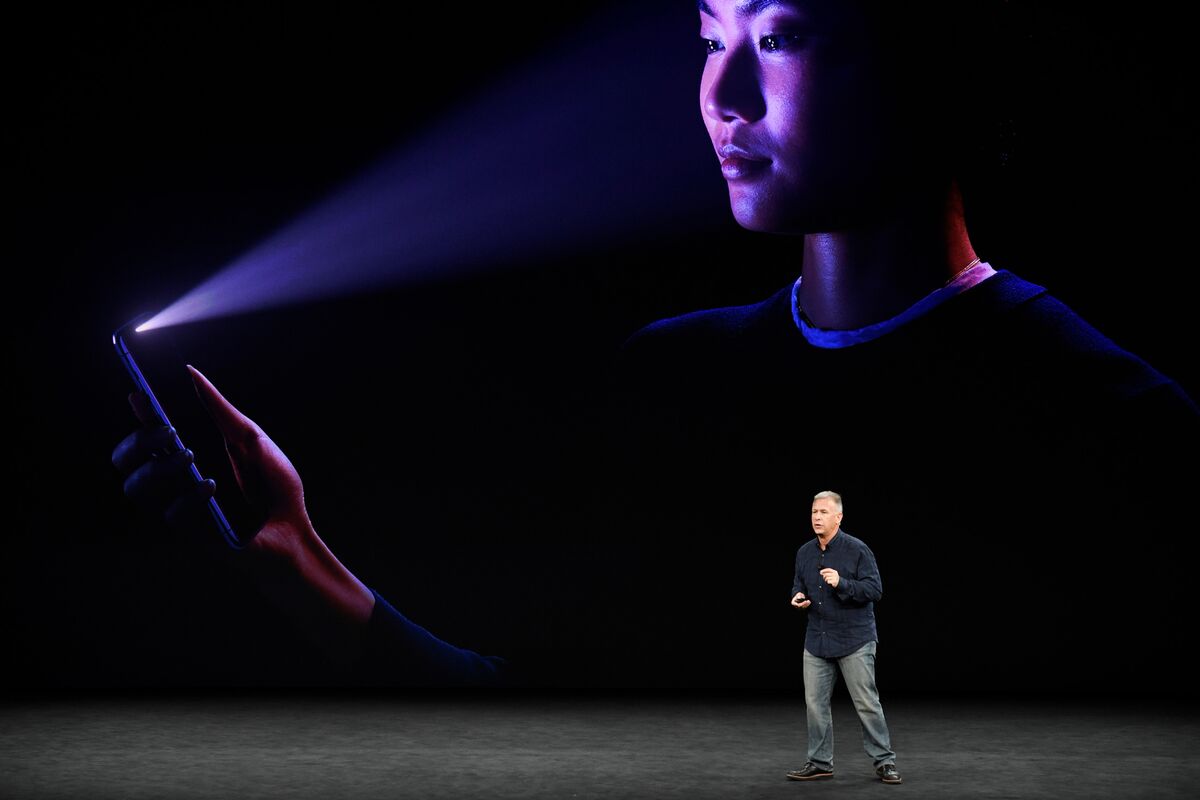 When Apple Inc. unveiled its new iPhone X this week, there was plenty of interest in the new, sharper display, wireless charging, upgraded camera and stratospheric price tag. But the feature that really got people talking was the phone's 3-D facial recognition system. It is meant to allow you to log in at a glance and to make your phone more secure. But some have concerns about the implications of a technology company mapping millions of people's faces, and how that might be abused by companies and governments.
1. How does Apple's facial recognition system work?
Face ID, as Apple's branding it, uses a camera in conjunction with a 3-D scanner to not just record an image but measure in detail the contours of facial features. A dot projector mounted in the top of the handset beams 30,000 invisible points onto the user's face to create a 3-D map, which is then read by a neighboring infrared camera. When you unlock your phone, infrared light is beamed at your face to help it tell it's you even when it's dark.
2. Is that different from other phone systems?
Yes. Samsung Electronics Co.'s newest smartphones offer face recognition, but in a form that it says is less secure than a PIN or password. Since the handset lacks a 3-D scanner, it relies purely upon the appearance of the face. Some people have managed to fool it with photos of the phone's owner.
3. What's the benefit of Face ID?
Ease of use and security, according to Apple. The iPhone X detects when you're looking at the display and unlocks automatically, without you needing to fiddle with the screen, Apple says. And it says the system is more secure than Touch ID, the fingerprint scanner that's been standard on iPhones for the past four years. According to Apple, the chance of someone else unlocking your phone with Face ID is one in a million, compared with one in 50,000 for Touch ID.
4. What's the downside?
Apple software chief Craig Federighi experienced a slight hiccup at Tuesday's demo: The phone failed to unlock when he first tried to open it using Face ID. Apple later said this was because the phone hadn't been previously unlocked with a PIN to activate Face ID. What will really make or break the user experience is how long unlocking takes and how accurate it is in everyday use, which we're unlikely to know until after its Nov. 3 shipping date. Another issue is whether it works better for some people than others. "Many facial recognition systems have a higher rate of error when tested for accuracy in identifying people of color,'' U.S. Senator Al Franken of Minnesota wrote in a Sept. 13 letter to Apple CEO Tim Cook, as he sought reassurances on a number of concerns related to Face ID.
5. Can governments and companies get an image of my face?
That's another thing people are worried about. "Unlike a password, an individual's faceprint is permanent, public and uniquely identifies its owner,'' Franken wrote. "As a result, should a bad actor gain access to the faceprint data that Face ID requires, the ramifications could last forever, particularly if Apple's biometric technology comes to be used in other devices and settings.'' But that's not likely, according to Apple. It says the data will be stored in a "secure enclave" — encrypted on a chip in the phone and never sent to the cloud. You will be able to unlock third-party apps using the tech, but all the magic is done in the phone, not on remote servers.
6. What about the police?
Under U.S. law, individuals are not required to divulge information such as a PIN to law-enforcement authorities, though companies often help access locked phones if the request comes through the right legal channels. But users can be made to unlock devices using a fingerprint scanner and this may apply, in theory, to a facial recognition scanner, too. A different security feature included on the phone could offer some protection — if Face ID isn't used for 48 hours, the phone will demand a PIN to reactivate it before unlocking.
7. Where else are we going to see facial recognition used?
Microsoft Corp. already uses it on some of its laptops. Baidu, often described as China's Google, uses it at the entrance gate for its headquarters. Its system doesn't do a 3-D scan, but detects whether the face is moving or not to ensure it's not fooled by a photo. It's already selling the technology to museums, theaters and other venues. Chip designer ARM Holdings, meanwhile, has developed a facial recognition system for use by law enforcement authorities and others to be able to identify faces in a crowd.
8. What if I don't want to use Face ID?
The iPhone will stay locked if your eyes are closed, or if you're not looking at it. But if you're really concerned, you can always opt not to activate Face ID, and instead lean on the tried and tested six-digit PIN to unlock your device.
9. What if I grow a beard — or have an evil twin?
For the twin, you should probably use the PIN-only login option. At the demo, Apple warned that people with a close genetic relationship were more likely to be able to unlock another person's device. But a mask shouldn't fool the system — Apple's engineers worked with Hollywood mask makers to ensure they couldn't hoodwink it. Apple says that the system uses neural networks to recognize slow changes in appearance, like a new beard, different hair, glasses, weight gain or the like, and adapt. But if there's a dramatic or sudden alteration, say from plastic surgery, you can use the PIN to reset it.
The Reference Shelf
Source link